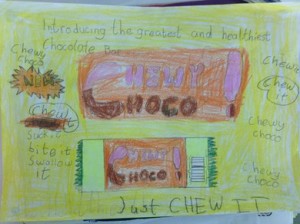 If you're sick of the same old stuff going into your basket in Dunne's or Tesco's then you need to check out some of our inventions! We took inspiration from Roald Dahl's Charlie and the Chocolate Factory which we recently finished reading in class.
First we came up with a product and then decided on it's special features, ingredients and slogans. Next came the poster design which included as much detail as possible about our inventions.
Finally, came the radio ad which aimed to persuade people to buy our inventions. This gave us a chance to practice our persuasive writing and oral language. We hope you enjoy the videos below where you can both see our posters and listen to our ads 🙂 Enjoy.
Click on a persons name to watch their video 🙂
Olajuwon 🙂 Ogochukwu 🙂 Nicole 🙂 Michael 🙂 Margaret 🙂 Kevin 🙂 Keith 🙂 KC 🙂 Katelyn 🙂 James 🙂 Chloe T 🙂Chloe B 🙂Chelsea 🙂 Callum 🙂 Anthony 🙂 Caitlin 🙂Bridie 🙂 Amy H 🙂 Amy D 🙂 Patricia 🙂TJ 🙂Tolu 🙂 Tyriece 🙂Jade 🙂