We are all settled back in after a very busy Christmas and 2018 has gotten off to a great start already! The new year brings a fresh start for all of us and we started off by coming up with some New Year's resolutions!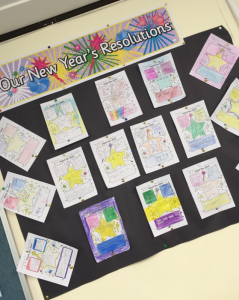 In literacy, we are really enjoying improving our reading skills with Reading Eggs on the new chrome books and are working really hard to earn as many eggs as possible! We are also working on narrative writing and turned a spooky story into a cartoon strip. We look forward to writing our own!
We are in the process of creating 'Box Monsters' in art using a range of recyclable materials! We have planned these really carefully and can't wait to show our finished products. Room 22 worked so hard on our swimming last term and now we are practicing lots of balances and movements in gymnastics – we are looking forward to improving our flexibility.
We are excited for what is to come this term and will be sure to keep you posted!