We are reading Matilda by Roald Dahl in our class now.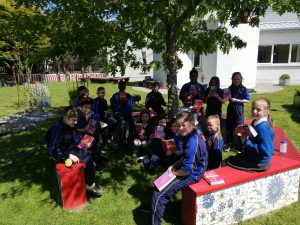 It is about a little girl who finds out she has magic powers fueld by her parents shouting  at her. She is very very smart and has read almost any book you can think of. 
Her principal Ms Trunchbull is so mean but thankfully she meets Ms Honey at school. She is her teacher and she is the only person who is nice and cares for Matilda.
Last week when the weather was good we went outside to read in our lovely school garden. We hope the sun comes back soon so we can enjoy it again! we can't wait for book week next week too.
By Nia Usher 4th Class Room 12